Have you wanted to try making wine out of fruit or grapes that aren't readily available to you, or you don't want the mess or expense of buying and preparing fruit for a wine? Vintner's Best Wine Bases may be what you are looking for!
Easy to Make
These wine bases make five gallons of wine, though you can split it up and make smaller batches; using the 1:4 ratio, it's one gallon of the base to four gallons of water. These bases are pH balanced and pre-sweetened to ferment to 10% alcohol, though you can always add more sugar before fermentation if you would like more alcohol. All you need in addition to the wine base is, of course, a fermenter that can hold five gallons, a five-gallon carboy, siphoning equipment, clean water, and yeast; the instructions are also right on the jug!
Great Base for Adding Fruit!
I find these wine bases to be quite versatile. If you have leftover fruit from the season but not quite enough to make a full batch of wine, use a wine base and add your fruit to it! If you have frozen fruit and want to make wine in the middle of the winter, use a wine base and add your whole or juiced frozen fruit to the base for body and flavor. I had nine pounds of frozen elderberries, which I simmered (pictured above), and got about one gallon of juice out of them; I took a Vintner's Best Elderberry Wine Base, and instead of adding four gallons of water, I added the gallon of elderberry juice and three gallons of water.
Variety of Quality Flavors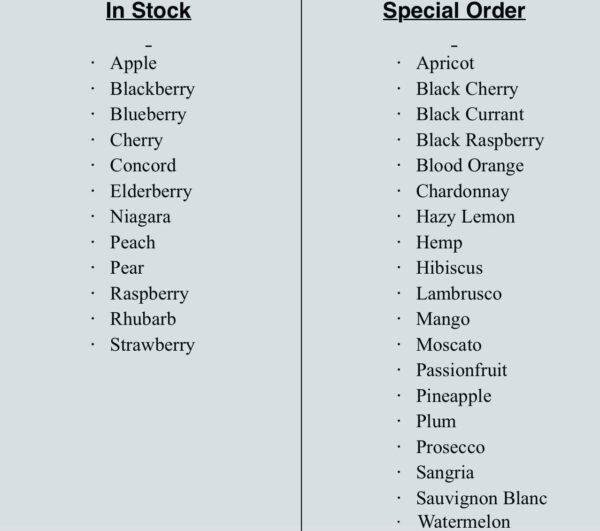 The flavors available in the Vintner's Best line continue to expand, with thirty-one flavors currently available (in the chart above). We keep twelve of these flavors in stock but will gladly special order the ones we do not have. These wine bases make quality fruit wine and are also award-winning! The Vintner's Best Hemp Wine Base was entered into the 2021 WineMaker International Amateur Wine Competition and was awarded grand champion!
Happy Fermenting!
Vintner's Best Wine Bases take the mess and prep time out of winemaking while making quality wine; start fermenting yours today!
Caitlin